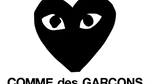 Shop x JW Anderson clothing
Add some playful style back into your fits with the latest additions from Comme des Garçons PLAY!
In 2002, Japanese label CDG expanded its selection offer the PLAY line, a selection of stylish ready to wear goods. Since that point PLAY has gone on to become arguably the most instantly recognisable collection among CDG's offerings. Often recognised for its iconic peeping heart logo, PLAY offers a range of spirited goods including T-Shirts, Hoodies, Sweats and much more.
So if you're looking to add some stylish goods back to your rotation, you're in the right place! Here at JuzsportsShops, we handpick only the finest CDG PLAY pieces available, courtesy of all your favourite and trusted suppliers. Happy shopping!