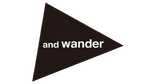 Shop and wander clothing
Give your looks the outdoor edge with the latest pieces available from and wander!
and wander was born in 2011 by two designers sharing a strong passion for nature, the mountains and, of course, fashion. As a result, and wander was born and with came some of the finest contemporary meets outerwear clothing available on the market.
Included in and wander's range, you'll find an array of pieces, including jackets, bags, T-Shirts, fleeces, trousers, shorts, caps and much more, each arriving with a distinctive stylish take on classic outdoor apparel.
So if you're in the market for a new and wander piece, you just so happen to be in the right place! Here at JuzsportsShops, we handpick all the latest and greatest styles to bring you only the best!